2018
NCC 2018 Annual Convention 10.27.18
| | | |
| --- | --- | --- |
| | | |
| Speakers: Dr. Joe Betz, Dr. Jason Jaeger | | |
| | | |
| | | |
| Speaker: Dr. Billy DeMoss | Relax the Back | |
---
NCC Northern Nevada Seminar - 9.15.18
| | | |
| --- | --- | --- |
| | | |
| | | |
| | | Speakers, left to right: Dr. Joe Betz, Dr. George Curry, Dr. Jason Jaeger |
| | | |
| | | |
---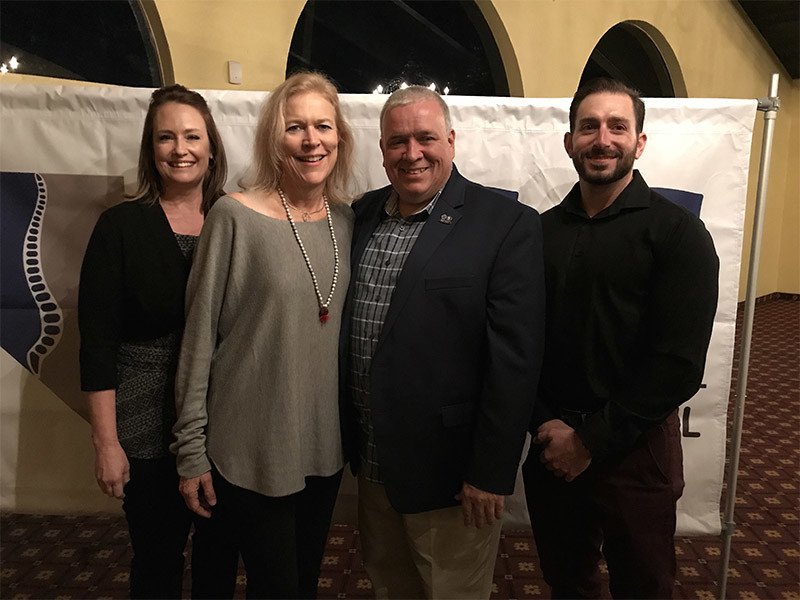 NCC January 28, 2018 Philosophy Seminar:
Dr. Nicole Harmel, Dr. Stephanie Youngblood, speaker Dr. George Curry and Dr. John Brown


---

Dr. Jason Jaeger
NCC 2017 Chiropractor of the Year
NCC President Dr. Stephanie Youngblood congratulates
Dr. Jason Jaeger as NCC 2017 Chiropractor of the Year
What's Your Story?
Dr. Dennis Verner
I grew up in Winnemucca, Nevada. My father, Floyd "Doc" Verner, was a chiropractor, so I grew up in a "chiropractic lifestyle". I don't remember ever going to the medical doctor except for emergency stitches in my forehead when I was 8-years-old. I was never vaccinated. I was checked for subluxation regularly and adjusted when necessary. My dad was a graduate of Palmer College of Chiropractic and was trained in side posture upper cervical toggle recoil.
I was always active in sports as a child, especially golf, basketball, and hunting. I was fortunate to be on the state championship basketball and golf teams at Lowry High School my senior year 1973.
I did my undergraduate training at the University of Nevada, Reno. I always dreamed of being a chiropractor and practicing with my dad someday. My chiropractic education was at Los Angeles College of Chiropractic where I graduated in 1981. After passing the Nevada State boards, my dad and I built a new office building and opened Verner Chiropractic in June 1982. We practiced 10 years together, and my dad retired after practicing chiropractic since 1948!
In 2015 my oldest son, Dr. Nicklaus Verner, joined me in practice making three generations of chiropractors in our family. I had been a full spine chiropractor my whole career but was always interested in upper cervical because of my father's influence, and that was the way I grew up getting adjusted. While Nick was in graduate school at Life West he was exposed to Knee Chest Upper Cervical, and we started training together with Dr. Shawn Dill and the late Dr. Andy Roberts of the Art of the Specific. Our training included chiropractic outreach programs to El Salvador, and we have made numerous trips since then serving the wonderful people of El Salvador by utilizing knee-chest-upper cervical technique.
Dr. Nick and I focus on the importance of the body's ability to heal from the inside out when the nervous system is functioning without interference. We use computerized infrared thermography to detect nervous system dysfunction and digital spinographs to analyze the biomechanics of the upper cervical spine.
Verner Chiropractic stands for a world where the body's innate wisdom, health and human potential are known as fundamental truths that come from within and we are passionate about empowering our community.
My loving family includes my wife Lisa; two sons, Nick and Derek; two stepdaughters, Amanda and Stephani; son-in-law, Mark; and three grandchildren, Cohen, Avery, and Tatum.
The NCC hopes that our "What's Your Story?" profile series will help you know your fellow members better and allow you to see yourself in their stories, too.
| | |
| --- | --- |
| Dr. Dennis Verner and his son, Dr. Nick Verner | |