Dr. Stephanie Youngblood elected 2018 Chiropractor of the Year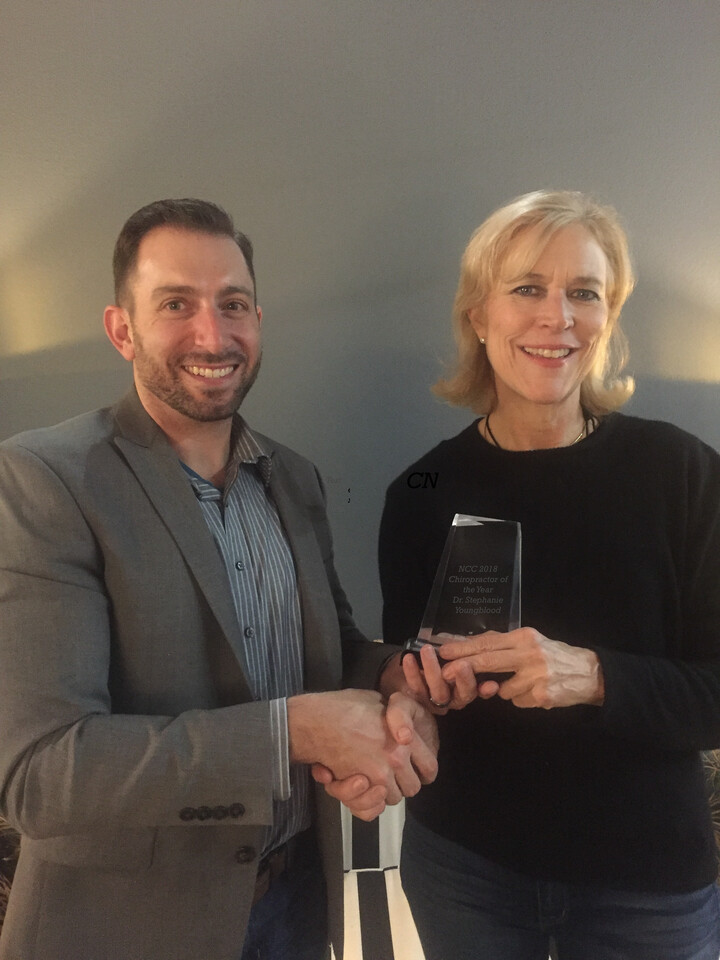 NCC Treasurer Dr. John Brown congratulates Dr. Stephanie Youngblood on being elected as NCC 2018 Chiropractor of the Year. Dr. Youngblood was elected by her peers for her dedication to both the NCC and chiropractic. Thank you - we appreciate all of your effort!
Why the NCC
Supports the Use of X-Rays
The NCC supports the right of chiropractic physicians to use their professional judgment and expertise to determine what is best for each patient and to practice any techniques, including the taking and reading of x-rays, which fall within the scope of practice in the state of Nevada.
Dr. Stephanie Youngblood, current NCC board president, says, "I support the use of x-rays by chiropractors for patient protection. I had a patient with cancer, and by x-ray, I learned that it had metastasized to her neck. An adjustment would have hurt her. The more information I have, the better I can care for my patients."
Dr. Bobby Moore, past NCC board president, says, "Techniques, such as CBP, require progress x-rays to verify whether the patient's treatment is working and/or if adjustments need to be made. Once we caught a patient's cancer that had returned by detecting, by x-ray, ivory white vertebrae sign. Another time a young girl had an incredibly severe scoliosis that was undetectable just by looking at her. These two patients had very mild to no pain, but both had emergency surgeries. Chiropractic physicians must not let insurance companies dictate chiropractors' methodology for treatment."
Welcome to our 2019 NCC Board of Directors:
President: Dr. Adam Ingles, DC
Vice President: Dr. Ted Sim, DC
Secretary: Dr. Kevin Kaldy, DC
Treasurer: Dr. John Brown, DC
Northern Nevada Directors: Dr. Josh Byers, DC and Dr. Dennis Verner, DC
Southern Nevada Directors: Dr. Cayla Lairmore, DC and Dr. Benjamin Lurie, DC
Past President / Chairman of the Board: Dr. Stephanie Youngblood, DC

Need Help?
To inquire more, call us at 702-518-2188 or send us an email